I always get so excited when the Ultimate Blog Party rolls around!  It's always a good time and brings back memories of when I first started blogging two years ago.
I wrote my first post on March 25th, 2010 just a few days after my middle daughter's 2nd birthday.  I was a stay at home mom of 3 girls (still am) and was looking for an outlet of sorts.  I wanted to connect with others and share my stories, like these ones:
Then just two weeks after my first blog post, I came across 5 Minutes for Mom and was introduced to the Ultimate Blog Party.  I was immediately in love with the idea and wrote My First Blog Party post.
I had 58 comments on that post… I was amazed!  I met some incredible bloggers and completely attribute the Ultimate Blog Party for launching my blog two years ago and inspiring me to grow my blog into what it is today.
Over the years, I evolved my blog to incorporate more product reviews and giveaways.  I made the switch from Blogger to WordPress , started a Susie B. Homemaker YouTube Channel (still a newbie vlogger), and had a couple blog makeovers along the way.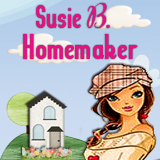 Thanks so much for stopping by, I'd love if you leave me a comment!
Connect with me via:
Have fun partying with the Ultimate Blog Party!